I finally took the time to get some screenshots of my characters' outfits to post in the outfits thread on the CM forums. It should be an easy and quick thing to do, but I didn't just want shots of my characters just standing still. Have to make them interesting after all, so it took a bit of time.

I should have had a new Loremaster outfit right now. I am near the top of the loot list for DN, with only people who have/don't want the DN chest piece. Our kin had a BO/Mistress run on Sunday and I was all set to finally take it and get my pretty robe. But due to spousal aggro I didn't get to try again and someone else got my lovely armour. *sigh*

Loremaster and Hunter. Would looooove the DN chest/legs on my hunter but doubt that will ever happen :P I'm a bit odd, I like good gear but I think a lot of my motivation for raid gear is its cosmetic value! :P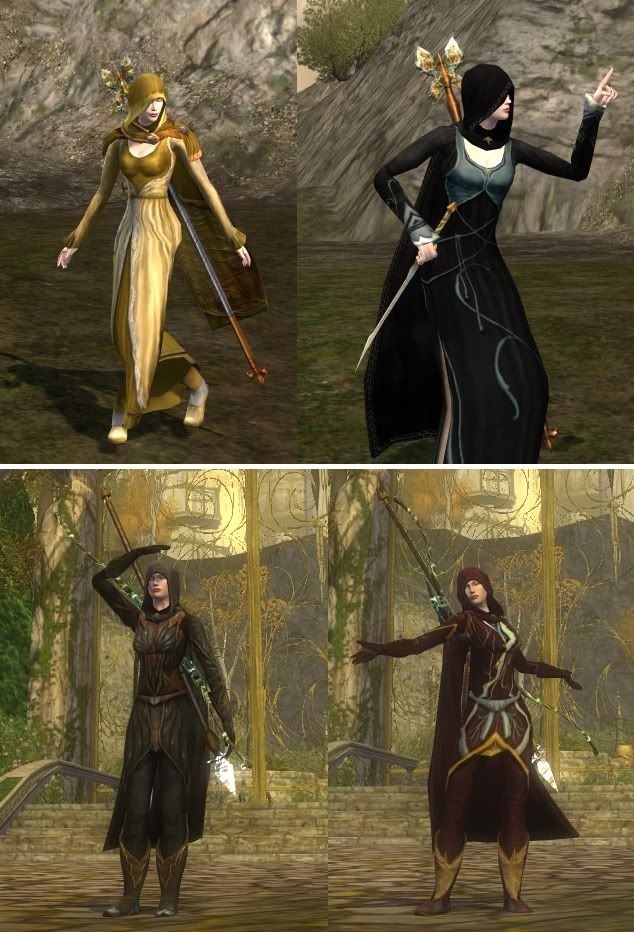 Captain and champ. I'm really in love with the Annuminas heavy armour set. I think it's gorgeous. I had to beg a few kinnies to go back and run an instance before f2p hit so I could use up my Anorian armour pieces to get the boots. With my champ I've gotten lucky with some random drops off mobs. She was only in the 30s when I made these outfits. Lowbies can be hard to make look good and I think I've done alright. Though to be honest, I'm not sure how much I'll deviate from that look as I'm not so fond of the vast majority of heavy armour on females. It's far too bulky for me.